UCLA vs. Stanford College Football Predictions: Week 9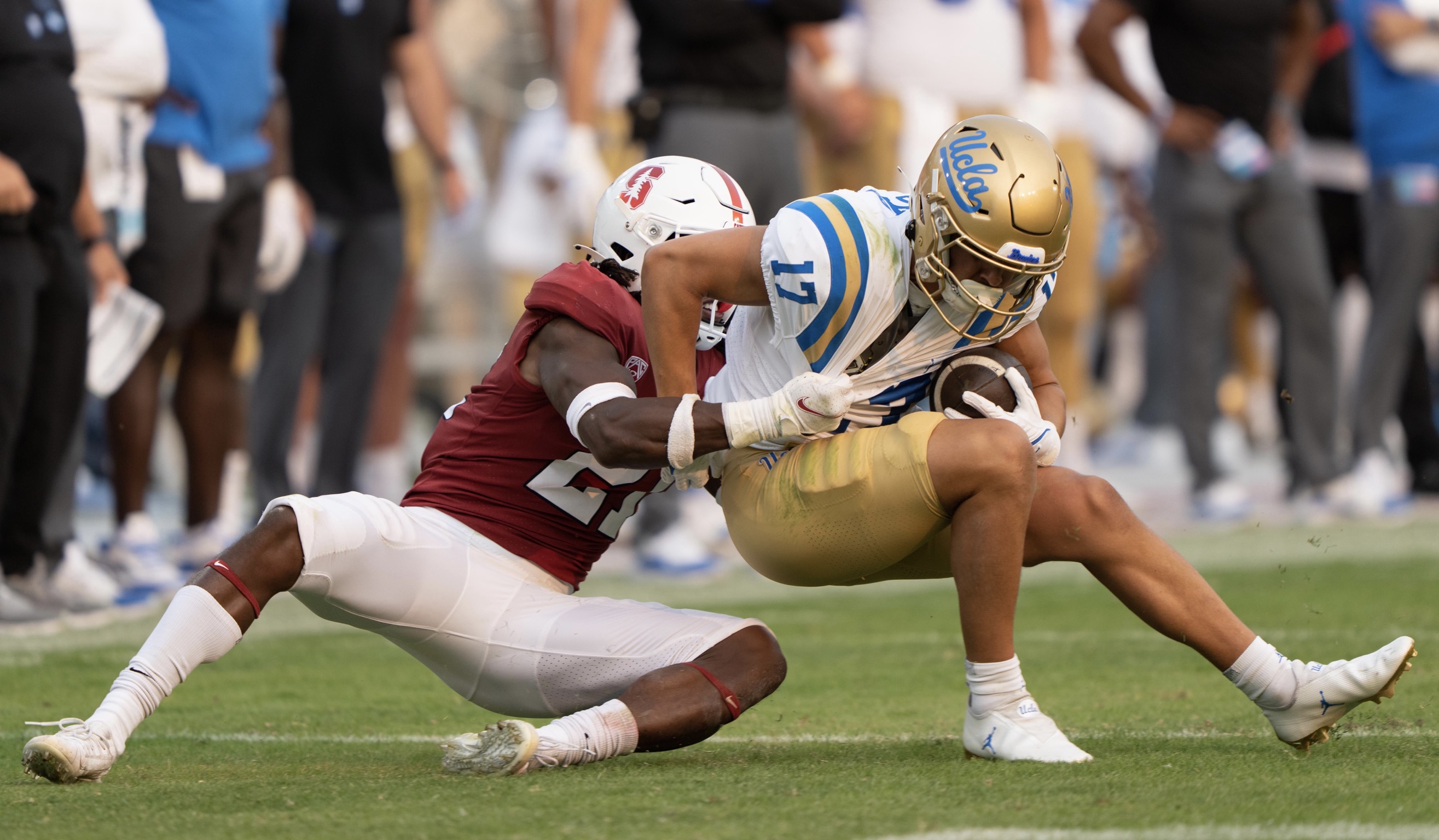 The Bruins are looking to rebound after a huge loss in Eugene and will need to keep up with their northerly rival .
No. 12 UCLA football (6-1, 3-1 Pac-12) will play Stanford (3-4, 1-4 Pac-12) at the Rose Bowl on Saturday. The Bruins are coming off their first loss since Oct. 30, 2021, while the Cardinal have won back-to-back against Notre Dame and Arizona State. UCLA is the 6.5-point favorite in this matchup.
All Bruins has made its picks for who will win, how the score will play out and what the outcome will be. This prediction is courtesy of Sam Connon, Managing Editor, and Benjamin Royer, contributing writer.
Sam Connon, Managing Editor
Prediction: UCLA 38, Stanford 20
It wasn't all too long ago that one had to toss out objectivity and deeper analysis when predicting the end result of a UCLA-Stanford game.
Those days are over, though, and the Cardinal's 11-game winning streak in the head-to-head series feels like a distant memory. Chip Kelly has seen the Bruins win two of the last three games, and it is possible to look at this rivalry matchup with logic and facts.
Just two weeks ago, UCLA's nine-game winning streak dating back to 2021 was overlapping with Stanford's 11-game losing streak to FBS teams dating back to 2021. Save for a fluky four-game winning streak to close out the wonky and shortened COVID-impacted 2020 season – they won those four games by a combined 10 points – the Cardinal were 7-23 since Week 2 of 2019. This is all to say that you shouldn't believe in this Stanford team just for winning back-to-back matches. The Cardinal had been trending down over the past four seasons. However, wins over a struggling Notre Dame team and an Arizona State team with an interim coach shouldn't change that.
UCLA has a lot more to offer than either of these programs and will be a tough matchup for Stanford.
Before the two recent wins when they allowed 14 points each time, the Cardinal had given up 40-plus points to three of the four FBS teams they had played. The Bruins are averaging 39.9 points per game, and that's after Oregon held them to a season-low 30 last week.
Stanford is allowing 187.6 rushing yards per game on 5.2 yards per carry, setting running back Zach Charbonnet up for yet another big game. UCLA was 11-0 when Charbonnet broke 100 yards on the ground prior to last week's loss in Eugene, so history would suggest that the team wins when he succeeds on the ground.
That's not even including what quarterback Dorian Thompson-Robinson could do, which is ironic given his late-game heroics against the Cardinal in 2021. Stanford won its last two games by scoring 16 and 15 points, respectively, and there is no way they can do that again and hope to win when they're facing down Charbonnet and Thompson-Robinson. It can be dangerous to reduce a matchup to two key players and broad stats. However, the odds of UCLA winning are so strong that it would be foolish to try to get any deeper.
Benjamin Royer, contributing writer
Prediction: UCLA 45, Stanford 27
Tanner McKee may be one of the most talented quarterbacks in the nation and a prime NFL prospect, but he is all that Stanford's offense has to remotely threaten UCLA on Saturday night. The Bruins will rebound from their loss in Eugene during Week 8, and will thrive against a weak Cardinal defense. Quarterback Dorian Thompson Robertson will also be returning to the Heisman Trophy conversation.
The Rose Bowl has been a place of safety for the blue and gold in 2022 and it is possible that UCLA will hold steady and stay undefeated at home all season long. The Cardinal and Stanford coach David Shaw will be paying close attention to the way Oregon exposed UCLA's secondary. Shaw will expose UCLA's defense structure and shock the crowd.
Oregon won through true talent. When comparing the Bruins with the Cardinal, it is clear that UCLA has the edge in talent.
Compared to a dismal program, Chip Kelly and his team should be able run up the score with relative ease. Either way, a win is needed for UCLA to stay in the races for the College Football Playoff, Pac-12 title game and Rose Bowl game at the end of the year.
Follow Connon on Twitter at @SamConnon
Follow Royer on Twitter at @thebenroyer
Follow All Bruins on Twitter at @FN_AllBruins
Like All Bruins on Facebook at @FN.AllBruins
Subscribe to All Bruins on YouTube
Read more UCLA stories: UCLA Bruins on Sports Illustrated
Read more UCLA football stories: UCLA Football on Sports Illustrated
The author of 5 books, 3 of which are New York Times bestsellers. I've been published in more than 100 newspapers and magazines and am a frequent commentator on NPR.