Supreme Court takes Jack Daniel's case against dog toy maker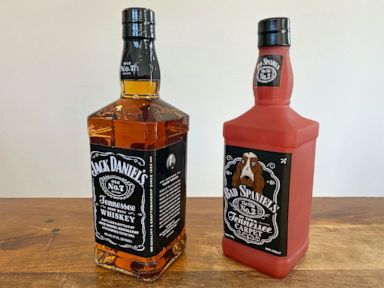 WASHINGTON — The Supreme Court said Monday it will hear a dispute over a dog toy that got whiskey maker Jack Daniel's barking mad.
Jack Daniels had asked the justices for a hearing on its case against the maker of the plastic Bad Spaniels toys. The toy is parody of Jack Daniel's label and bottle, but it does not look like Jack Daniel's. The original bottle had the words "Old No. 7 brand" and Tennessee Sour Mash Whiskey," but the parody declares that "The Old No. 2 on Your Tennessee Carpet. The parody claims that it's 40% alcohol per volume.
Lawyers representing Arizona-based VIP Products, who made the toy, said that Jack Daniel's cannot take a joke. Jack Daniel's had "waged war" against VIP Products for having "the temerity to produce pun-filled parody of its bottle." The toy retails for about $13 to $20 and the packaging notes in small font: "This product is not affiliated with Jack Daniel Distillery."
Jack Daniel's lead attorney, Lisa Blatt, made no bones about the company's position in her court filing.
" Everyone loves a good joke, that's for sure. VIP's profit-motivated "joke" confuses consumers by taking advantage Jack Daniel's hard-earned reputation," she wrote for Brown-Forman Corp. in Louisville, Kentucky, Jack Daniel's parent company. Blatt stated that a lower court decision provides "nearly-blanket protection" for humorous trademark infringement.
The toy is part a line VIP Products called Sillysqueakers, which mimic alcohol, beer, wine, and soda bottles. They include Mountain Drool which parodies Mountain Dew and Heini Sniff'n which parodies Heineken. A court in 2008 prohibited the company from selling ButtWiper, a Budweiser parody.
The case will not be argued until early 2023, with a decision expected before court departs for its summer recess.
The case is Jack Daniel's Properties Inc. v. VIP Products LLC, 22-148.
I have been writing professionally for over 20 years and have a deep understanding of the psychological and emotional elements that affect people. I'm an experienced ghostwriter and editor, as well as an award-winning author of five novels.