Power failures amplify calls for utility to rethink gas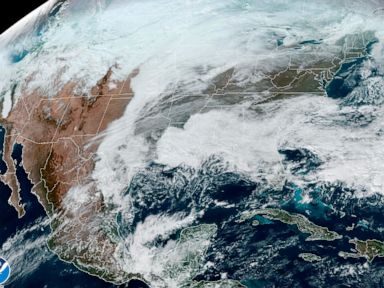 NASHVILLE, Tenn. — A federal utility's decision to resort to rolling blackouts after coal and natural gas units went offline during dangerously cold conditions has intensified questions about the Tennessee Valley Authority's recent decision to double down on fossil fuels.
TVA saw its highest winter peak-power demand ever on December 23 when an arctic blast brought freezing rain, blinding blizzards and cold temperatures from Maine to Seattle. In an email, the Tennessee Valley Authority stated that high winds and freezing temperatures caused the Cumberland Fossil Plant's coal-burning Cumberland Fossil Plant's shutdown at one point. This happened when critical instrumentation was frozen up. In an email, Scott Brooks, a TVA spokesperson, stated that Bull Run, a second coal-burning facility, went offline. However, he did not give details. Brooks stated that the utility also had issues with "some of our natural gas units".
" The Tennessee Valley Authority's gas and coal plants failed us during the holiday weekend. People in the Tennessee Valley had to deal with rolling blackouts even though temperatures dropped into the single digits," Amanda Garcia, Southern Environmental Law Center Tennessee Office Director, stated in an email. "Despite this apparent failure, the federal utility still plans to spend billions on new gas plants and pipelines."
TVA supplies power to 10 millions of people in seven Southern states. The federal utility issued a statement on Wednesday saying it takes full responsibility for the rolling blackouts on Dec. 23 and Dec. 24, just as many customers were preparing for Christmas.
" We are doing a thorough review of the events and their causes. The statement stated that we will share the lessons learned and, more importantly, the corrective actions we take over the coming weeks to ensure that we are ready to handle significant events in the future.
The utility was already under scrutiny for its recommendation that some coal-burning power stations be replaced with natural gas. This is in addition to renewables and energy conservation measures such as heat pumps, LEDs, and wind. The decision to increase natural gas use was made as TVA is about filling its nine-member board with six new members. In the next few weeks, TVA's CEO could finalize the utility's recommendation to replace Cumberland's coal-burning plant with a natural-gas-fired one.
Already, a lawsuit has been filed against TVA alleging that it violated federal law when it approved a gas-power station that is being built at the Johnsonville Fossil Plant. This plant is not properly assessing its environmental and climate impacts. TVA declined to comment on this month's lawsuit.
Biden has set a goal of a carbon-pollution-free energy sector by 2035 that TVA has said it can't achieve without technological breakthroughs in nuclear generation and energy storage. TVA has set a goal of reducing greenhouse gas emissions by 80%, 2035, and 2005. CEO Jeff Lyash repeatedly stated that gas is essential because it can provide power regardless of the weather.
"TVA's CEO Lyash doesn't need to proceed with a huge new Cumberland gas plant decision before the new board is fully assembled and when we just learned that the mandatory blackouts were caused by coal and gas failures," Amy Kelly of the Sierra Club's Beyond Coal campaign stated in a statement.
I have been writing professionally for over 20 years and have a deep understanding of the psychological and emotional elements that affect people. I'm an experienced ghostwriter and editor, as well as an award-winning author of five novels.