Macron, Le Pen square off for decisive debate as vote looms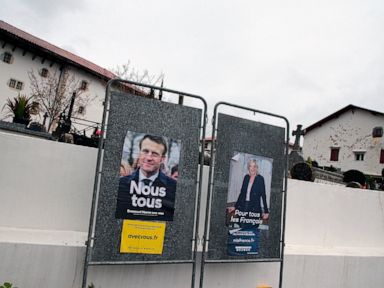 In the climax of France's presidential campaign, centrist President Emmanuel Macron and far-right contender Marine Le Pen will meet Wednesday evening in a one-on-one TV debate that promises to be tough for both
By SYLVIE CORBET Associated Press
April 20, 2022, 7: 22 AM
3 min read
PARIS — In the climax of France's presidential campaign, centrist President Emmanuel Macron and far-right contender Marine Le Pen will meet Wednesday evening in a one-on-one television debate that could prove decisive before Sunday's runoff vote. Both candidates have prepared for the intense debate, which is expected to last over two hours.
Macron, 44, emerged ahead from the April 10 first round and is leading in opinion polls with a margin varying between 3 and 13 percentage points. But Le Pen, 53, has significantly narrowed the gap compared to the last presidential election five years ago, when she lost with 34% of the vote to Macron's 66%.
In 2017, a similar debate struck a decisive blow to her campaign.
Le Pen appeared hesitant, looking for answers from the notes she was reading, and lost her composure. Macron quickly seized on her basic errors on economic topics.
This was disastrous for her image. She was also criticized for not being sufficiently prepared in her camp.
Meanwhile, the then 39-year-old Macron, despite his little political experience, seemed comfortable speaking about all kinds of issues and able to go deep into details in what appeared as a proof of seriousness.
Le Pen recently called the 2017 presidential debate the "biggest failure" of her political career.
She has promised to be more prepared and will work "at home" with her closest advisors.
Both parties need to increase support before Sunday's election. Many French, particularly on the left, don't know if they will vote.
Le Pen will appeal to anti-Macron sentiments, criticize his record, and present her anti-immigration, nationalist stance as an option. She also wants to show that she is a viable candidate for president and to promote realistic proposals.
Macron will, however, advocate for his pro-European views to make France stronger around the world. He will try to convince leftist voters his pro-business stance should not deter them from voting for him.
He acknowledged that some would back him to counter the far-right candidate.
" "I want to convince women with different political views," Macron stated.
——
Follow AP's coverage of the French election at https://apnews.com/hub/french-election-2022
---
---
I have been writing professionally for over 20 years and have a deep understanding of the psychological and emotional elements that affect people. I'm an experienced ghostwriter and editor, as well as an award-winning author of five novels.