Halftime Report: Mississippi Valley at Jackson State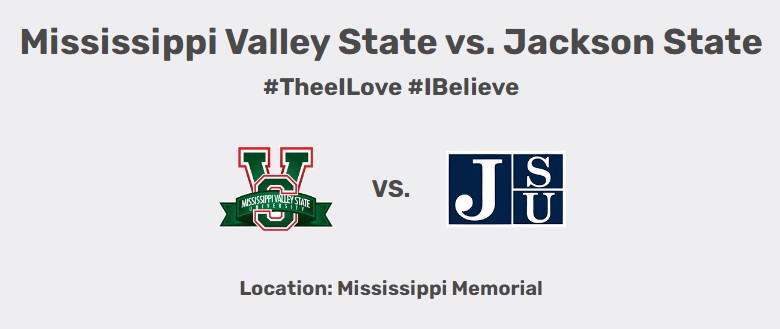 Halftime report of the Mississippi Valley State versus Jackson State football game in Week 4 of HBCU football action.
Halftime report of the Mississippi Valley State versus Jackson State football game in Week 4 of HBCU football action.
MSVU 1st Drive
MVSU Caleb Johnson bursts through the JSU line for a 50 yard run!
TD MVSU on a post pass to Jacory Rankin for 25 yards.
3 plays on the first drive
MVSU has a 3-play, 75-yard drive for the first score of the game over JSU. MVSU 7, JSU 0 13: 38 in the first qtr. Key Play: 50-yard opening play run by RB Caleb Johnson.
Score: MVSU 7, JSU 0
JSU 1st Drive
Big Play Willie Gaines took a Shedeur Sanders pass 42 yards for a touchdown.
11: 55 left in the 1st qtr.
Score knotted at 7 apiece. Drive: 5 plays, 75 yards
Score: MVSU 7, JSU 7
BCU 2nd Drive
3 and out. After an early sack on the 1st down, JSU defense held.
Punt
JSU 2nd Drive
Willie Gaines had a great punt return to start the Tigers in Devils territory at the 25-yard line. The excellent punt return is negated by a holding penalty.
Early takeaway: JSU running the football inside the tackles.
Sanders sacked to the 32-yard line by DE Ronnie Thomas. 3rd and 19.
3 and out. Punt.
MVSU 3rd Drive
MVSU is running well against the Tigers defense.
JSU calls timeout.
Punt
JSU 3rd Drive
A great run by Wilkerson for a 30-yard touchdown after getting hit by three MVSU defenders! Excellent balance.
JACKSON ST. drive 11 plays 90 yards; 1: 17 left in the 1st qtr.
MVSU 7, JSU 14
MVSU 4th Drive
Jones sacked by DL Davis for 4 yards.
3 and out
JSU 4th Drive
19 seconds remaining in the first quarter.
FIRST QUARTER SCORE
MVSU 7, JSU 14
---
JSU 4th Drive (cont'd)
Punt after a penalty negated a Sanders to Gaines touchdown.
MVSU 5th Drive
Valley near midfield and gets a Caleb Johnson rush for the first down.
A false start and an illegal forward pass results in a 4th down.
8: 40 left before halftime.
JSU 5th Drive
Dallas Daniels with a good pass and catch play from Sanders, bounced off his own player, spun and ran to the 40-yard line.
Roughing the passer on Valley. Ball on the 17 yard line.
Wilkerson runs for 15-yard line. He is a bowling ball runner. He is impossible to stop by the Valley defenders.
Wilkerson fumbles the football at the 1-yard line and MVSU recovers in the endzone.
It's the third time this season that JSU fumbles inside the 10-yard line and leaves without points.
MVSU 6th Drive
QB Jones has a huge run for the Devils to the JSU 40-yard line.
Coach Dancy upset with officials after missing a hit on his QB.
Jones' helmet came off, players from both teams exchange pushes.
3rd and 11.
Jones for hit from behind by No. 42 J. Brown. Incomplete pass. 4th and 11. Devils punt.
4: 20 remaining
JSU 6th Drive
Timeout at 3: 03
Shedeur Sanders missed Kevin Coleman who was wide open behind the MVSU secondary.
Sanders tosses a pass to Marshall who eludes a defender and sprints for a first down.
Ball at 13 with 1: 18 left.
Tackle at the 11 with 54 seconds.
FLAG! Passer penalty for roughing by No. 50 gives JSU an automatic first down.
Dancy is frustrated with the officials.
Sanders slides.
Sanders to JD Martin on a swing pass for a 5-yard touchdown play before halftime. 10 seconds left. Matta has an extra point.
Score: MVSU 7, JSU 21
HALFTIME SCORE
Mississippi Valley State 7, Jackson State 21
Injury Report:
MVSU RG Davis injured in the 2nd qtr.
First Half Summary and Key Stats:
JSU was not having a balanced offensive attack in the first quarter.
MVSU penalties keeps them from the redzone and helped to extend JSU drives.
Coach frustrations are being felt by the players.
Key Plays
Willie Gains Bomb for TD/
Holding penalty negates another Willie Gains TD.
Wilkerson fumbles the football into the endzone for a turnover.
Roughing the passer penalty on Valley gave the Tigers a first down inside the 6 yard line. 44 seconds remaining.
First-Half Standout Players/Performances
QB Shedeur Sanders: 19/21, 189 yards, 1 TD, 181.8 rating
WR Daniels: 6 rec, 77 yards
Gaines: 1 TD
MVSU
2/6, 24 yards 1 TD; 8 rushes, 67 yards
Johnson: 8 rushes, 61 yards
The author of 5 books, 3 of which are New York Times bestsellers. I've been published in more than 100 newspapers and magazines and am a frequent commentator on NPR.