EXPLAINER: Qatar's vast wealth helps it host FIFA World Cup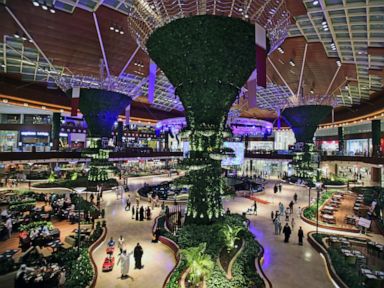 DUBAI, United Arab Emirates — Qatar is home to some 2.9 million people, but only a small fraction — around one in 10 — are Qatari citizens. Qatar's shared ownership of one of the largest natural gas reserves in the world gives them enormous wealth and benefits.
This tiny country is located at the eastern tip the Arabian Peninsula and juts into the Persian Gulf. The North Field is the largest undersea gas field in the world, which Qatar shares along with Iran. The gas field holds approximately 10% of the world's known natural gas reserves.
Oil and gas have made the 50-year-old country fantastically wealthy and influential. In a matter of decades, Qatar's roughly 300,000 citizens have been pulled from the hard livelihood of fishing and pearl diving. The country is now an international transit hub, with a profitable national carrier. It is also behind the influential Al Jazeera news channel and is funding the expansion of the largest U.S. military station in the Mideast.
Here's a look at Qatar's economy and how this tiny country was able to spend so much to host the FIFA World Cup:
QATAR'S ECONOMIC STRENGTH
For most of its existence, the tribes of Qatar relied on pearl diving and fishing for survival. It was like other parts of the Gulf. It was harsh and barren. The discovery of oil and gas in the mid-20th century changed life in the Arabian Peninsula forever.
While the rest of the world is struggling with inflation and recession, Qatar and other Gulf Arab energy producers reap the benefits of high energy prices. According to the International Monetary Fund, Qatar's economy will grow by 3.4% this year.
Despite its massive spending spree in preparation for the World Cup, Qatar still earned more than it spent last fiscal year. This gives it a comfortable surplus that will continue into 2022.. As Qatar expands its capacity to export more natural gas via 2025., Qatar's riches will likely grow.
Its sovereign fund, the Qatar Investment Authority manages and invests the country's financial reserves.
QATAR'S WORLD CUP SPENDING
Qatar has spent some $200 billion on infrastructure and other development projects since winning the bid to host the five-week long World Cup, according to official statements and a report from Deloitte.
Around $6.5 Billion was spent on eight stadiums, including the Al Janoub stadium that Zaha Hadid, a renowned architect, designed.
Billions of dollars were also spent on a new airport, a metro line and other infrastructure in preparation for the matches. Capital Economics, a London-based research firm, said that ticket sales suggest that approximately 1.5 million tourists will visit Qatar to watch the World Cup. If each visitor stayed for 10 days and spent $500 a day, spending per visitor would amount to $5,000, the research firm said. This could bring Qatar an additional $7.5 billion in economic growth this year. Some fans may fly in to watch matches, while others will stay in Dubai or other nearby cities.
QATAR'S LAVISH BENEFITS
Like other rich petro-states in the Gulf, Qatar is not a democracy. The Al Thani family and its chosen advisors make decisions. Citizens are not allowed to influence major policy decisions in their country. The government offers many perks to citizens that have helped ensure their loyalty and support. Qatari citizens enjoy tax-free incomes and high-paying government jobs. They also get financial support for newlyweds, housing assistance, generous subsidies to cover utility bills, and other retirement benefits. The country's citizens depend on foreign laborers to fill the jobs in the service sector such as drivers and nannies and to complete the hard construction work that made modern-day Qatar possible.
QATAR'S MIGRANT LAW FORCE The country has been under intense scrutiny for its labor laws, and the treatment of hundreds of thousands migrant workers from South Asian countries, including India, Bangladesh, Pakistan and Sri Lanka. These men live in shared rooms in labor camps and work through the long summer months with only a few hours of rest each day. They can go years without seeing their loved ones back home.
The work can be dangerous. Amnesty International has reported that dozens of people have died from heat stroke.
Rights organizations have credited Qatar for improving labor laws. They include adopting a minimum wage of $275 in 2020,, and dismantling "kafala," which prevented workers from changing jobs or moving out of the country without their employers' consent.
Human Rights Watch has however urged Qatar to increase compensation for migrant workers who were injured, killed, or robbed while working on World Cup-related activities.
——
Follow Aya Batrawy on Twitter at www.twitter.com/ayaelb.
I have been writing professionally for over 20 years and have a deep understanding of the psychological and emotional elements that affect people. I'm an experienced ghostwriter and editor, as well as an award-winning author of five novels.