Climate confab heads into final week, warming goal uncertain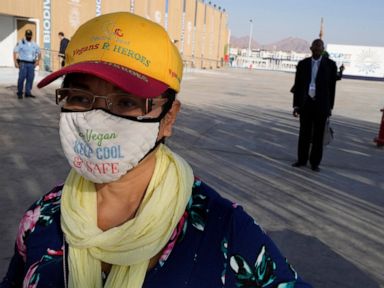 SHARM El-SHEIKH Global talks on climate in Egypt entered their second half Monday with much uncertainty about whether there will be a substantial agreement to combat climate change.
Tens of thousands of delegates representing nearly 200 countries, experts, activists, journalists and observers returned to the conference area in Sharm el-Sheikh, after a one-day break.
The U.N.'s top climate official appealed to constructive diplomacy in order to match the high-flying rhetoric during the opening days.
"Let's remind negotiators, people and planet rely on this process to deliver," U.N. Simon Stiell, Climate Secretary, said.
"Let us use our remaining time here in Egypt to build the bridges necessary to make progress," he said, citing the Paris climate agreement goals of limiting global temperatures rise to 1.5 Celsius (2.7 Fahrenheit), adapting to climate change and providing financial assistance to countries struggling to cope with its effects.
What happens at the G-20 in Bali, as well as the Xi-Biden meetings, will be crucial to what happens at the climate summit. If the G-20 makes progress on climate, it will be easier in Egypt, but if they backslide, especially on the 1.5 goal, it will undermine the climate summit, said Alden Meyer, a long-time observer of U.N. climate meetings with the environmental think tank E3G.
"What both presidents decide in Bali will directly impact the endgame here at Sharm El-Sheikh," Meyer said.
One key issue is whether the G -20 keeps last year's agreement that the 1.5 degree climate goal should be an objective of the G -20. Meyer stated that if there is a push to remove it, it would be a setback in climate change fighting. Meyer stated that the "cover decision," which sets out the political goals, is key. "Discussions of them began late." Meyer said that some countries don't want one of these all-encompassing documents, which are often named after the city where they were written, such as the Glasgow Climate Pact. Others, however, are pushing for one.
" The negotiators are responsible for not making concessions until ministers arrive," he stated.
Delegates were already discussing the possibility of a walkout from developing countries if key demands for aid to poorer countries are not met during the talks.
A key theme of the COP 27 conference is a call to wealthy industrialized countries that have benefited the most from industrial activities that caused global warming to do more for poor countries that have contributed little to global emission. They want compensation for damage and loss caused by climate change-related storms, floods, and other effects. Monday's launch of a new insurance program by the Group of Seven major economies was to provide financial assistance for countries that are affected by the devastating effects of climate change.
The so-called Global Shield was launched Monday by the V 20 group 58 vulnerable nations. It will initially receive more 200 millions euros (dollars), in funding, mainly from Germany. Fiji, Ghana and Pakistan are the first recipients.
Ghana's Finance minister Ken Ofori-Atta described it as "a path-breaking effort" which would help communities protect their livelihoods and lives.
But civil societies were skeptical and warned that the program shouldn't be used to distract from the larger effort to get large polluters to pay for the damage and loss they have already caused by their greenhouse gases.
Vulnerable nations and countries also need financing to support their transition to clean energy and to adapt to global warming. The talks are expected to conclude on Friday, but negotiations could continue into the weekend if there is more time needed to reach an agreement.
——
AP Science writer Seth Borenstein contributed to this report.
——
Follow AP's climate and environment coverage at https://apnews.com/hub/climate-and-environment
——
Associated Press climate and environmental coverage receives support from several private foundations. Learn more about the AP's climate initiative. All content is the sole responsibility of the AP.
I have been writing professionally for over 20 years and have a deep understanding of the psychological and emotional elements that affect people. I'm an experienced ghostwriter and editor, as well as an award-winning author of five novels.