Another Presidents Cup Is Nice, Now the U.S. Eyes Winning a Road Ryder Cup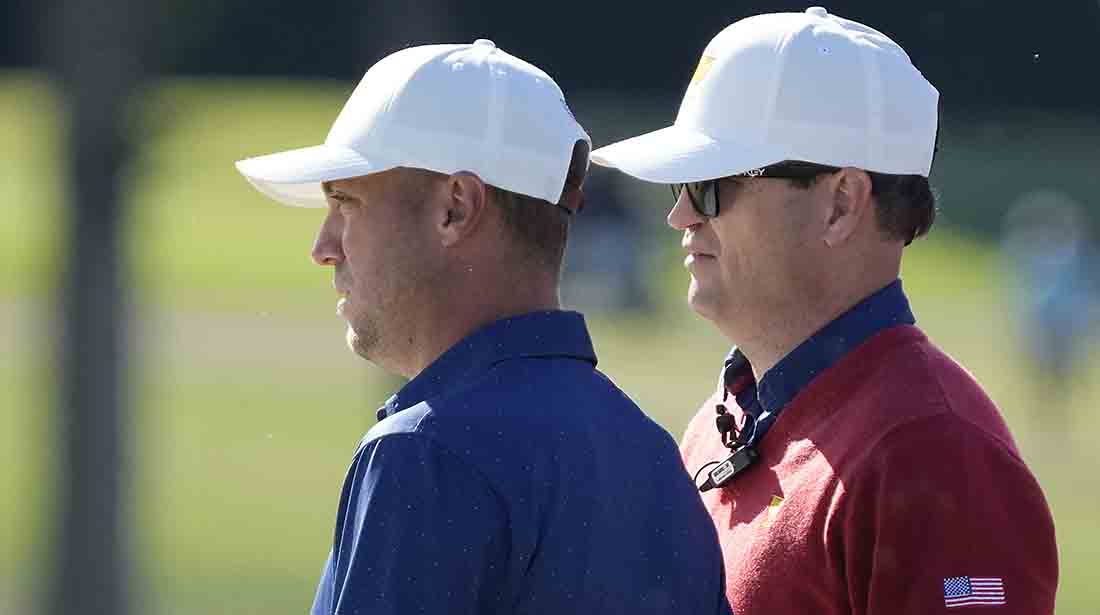 CHARLOTTE (N.C.) — The United States will now focus its attention to Italy after another Presidents Cup win. This time, Marco Simone Golf and Country Club in Rome will be the focus.
There, the U.S. will attempt to win a road Ryder Cup for the first time in … forever.
The last time it happened, Raymond Floyd – now 80 – captured a crucial Sunday singles match against Jose Maria Olazabal, 2-up, helping the Americans overcome a one-point deficit to start the day and win 15-13.
Other members of the U.S. team were Davis Love III, Fred Couples, Payne Stewart, Paul Azinger, John Cook, Tom Kite and Lanny Wadkins.
Floyd, 51 at the time, had the unique experience of playing in a second Ryder Cup after being a captain in 1989, when the Americans forged a tie with Europe.
It was so long ago that Phil Mickelson was in his second year as a pro and Tiger Woods had yet to win the first of his three U.S. Amateurs.
The year was 1993, the venue was The Belfry in Sutton Coldfield, England, and captain Tom Watson had but one unofficial assistant–his coach, Stan Thirsk.
Much has changed since then, including captains having an entourage of assistants.
One thing hasn't–the U.S. has failed to win a single Ryder Cup overseas.
From Valderrama to The Belfry to The K-Club to Celtic Manor to Gleneagles and to Le Golf National, there has been plenty of heartbreak and little joy for American golfers. Two were extremely close–Spain in 1997 and Wales in 2010–there was at least some intrigue heading to the final hours in England in 2002. Ireland in 2006 was a disaster (tying the worst-ever U.S. loss) and France in 2018 wasn't much better.
Now it's Zach Johnson's turn to try and change the course of American Ryder Cup history.
A five-time Ryder Cup participant who won the 2007 Masters and the 2015 British Open, Johnson, 46, has served recent apprenticeships under Jim Furyk at the Ryder Cup in France, Tiger Woods at the Presidents Cup in Australia, Steve Stricker at the Ryder Cup in Wisconsin and Love at last week's Presidents Cup in North Carolina. He is also the only player of his era with a winning record of 8-6-2.
You could not ask for more experience in being around the tournament. He was enjoying Quail Hollow.
"Every day," Johnson said. It could be the smallest nuance, or the most important thing over time. I'm not saying I'm going to write everything down. I am taking mental notes. I'm also learning from these kids on the golf course. This is an amazing learning experience. There are many differences in the way things are built. But I'm definitely learning."
Next year, the construction of Johnson's team will be slightly different. The format is shorter than usual and there are more decisions to be made because four players are present for each double session on Friday and Sunday.
But Johnson already seems to have two easy ones: the teams of Jordan Spieth/Justin Thomas and Xander Schauffele/Patrick Cantlay.
Spieth and Thomas went 4-0 at Quail Hollow and also played two matches together at Whistling Straits. Schauffele and Cantlay have been together since Melbourne and have won foursomes. They won Quail Hollow 2-1.
That's a lot of firepower and–assuming everyone's game is in shape–a simple call for Johnson. He has two of his four teams almost decided for each session.
"I do think you can call that a luxury," he said. "I don't think it's that extravagant of a luxury. They all want to play with one another. They are able to learn from each other. They get along. I appreciate the way they do their work.
"The beauty of what we have is we're putting other teams together. Some of these guys will play on multiple teams in the future, other than those four. Or will be in my position. And this is not JT, Jordan, X or Cantlay. There will be guys on this team having one day having to make these difficult decisions."
Then he's got some other fairly easy choices. Scottie Scheffler, Sam Burns and Max Homa did not score on Quail Hollow's scoreboard, but their play was much better than their results. Tony Finau, a veteran of these cups and had two successful partnerships together with Max Homa. He could also be paired with Collin Morikawa who, surprisingly, only played in two of the four matches.
Cam Young showed promise as a long hitter who can cause problems in four-ball. Homa went 4-0 in his Cup debut. Will Zalatoris was unable to compete due to injury. Undoubtedly there will be some players who emerge in 2023 as well to make captain's picks difficult.
Only three players in Charlotte were part of the losing effort in Paris–Thomas, Spieth and Finau. All of them had winning records. The other nine combined to go 7-23-1.
The beauty of that is Thomas, Spieth and Finau can be expected to be among the Americans' top players. Nobody else has ever had to deal with losing an overseas Ryder Cup.
The U.S., which defeated Europe 19-9 last year at Whistling Straits, will undoubtedly go in a favorite. It doesn't matter that it ever matters. Love stated that "We lost three Ryder Cups in succession, but we're still favorites."
Rory McIlroy, Matt Fitzpatrick, Shane Lowry, Viktor Hovland, Tyrrell Hatton, Tommy Fleetwood and perhaps a resurgent Francesco Molinari in his home country will give Europe a solid core of players. The challenge will also include a friendly golf course that is meant to hinder the Americans.
It is now Johnson's turn to see if he can help get the Americans their first road victory in 30 years–since 1993.
"It's a tall task to ask, going over there," Spieth said. "I mean, I have played in a few away games, and they are very different. I would take this team against anyone in the world.
" I think winning at home is special in it's own way. There's nothing better. It would be amazing to win on the road next year. I hope I can be part of the team. And the kind of team rooms that I've mentioned that we've had the last few years, it's going to stay that way, and I'm very confident in our ability to go over there and win."
Freddy for Rome
Johnson will be the next U.S. captain, but who will be his assistants? Who will be placed in these roles to best prepare them for a future captaincy?
The way the USA system works, basically, is that once you are a captain, you stay on as an assistant through the next two competitions. That would suggest that Steve Stricker–captain of the 2021 Ryder Cup team and an assistant in Charlotte, will be part of the crew in Rome.
Love has now been a captain three times and he was an assistant last year at the Ryder Cup and in 2018. He may be offered a spot, but it is possible that he will step aside to make room for someone else.
Webb Simpson filled that role at the Presidents Cup, but he's only 37, still a viable player, and will undoubtedly want to try and make the team. A perfect choice would be Tiger Woods, who will be a future Ryder Cup captain and has been a major player behind the scenes. His presence is uncertain, but he will undoubtedly continue to contribute.
Fred Couples seems a no-brainer, despite being 62 and not much of a part of the PGA Tour these days. Couples is a very popular member of the team room and a great sounding board. Couples captained three winning Presidents Cup teams in 2009, 2011 and 2013. He was an assistant at Medinah for the Ryder Cup in 2012 and later lamented not being more vocal going into the final day.
He was an assistant for Woods in Australia in 2019, for Stricker last year and for Love this year. He seems to have settled into an elder-statement role, whose words are important.
Scroll to Continue

"That's not my decision," Couples said when asked about it Sunday night. "You'll have to ask Zach about that."
Asked if wanted to be there, Couples said, "You bet, I'll do what they want. It's all good."
Seems simple enough.
Now Johnson also needs to look for some players who could be the future of Ryder Cup and Presidents Cup captaincies.
Strong Words
Trevor Immelman deserves credit for an amazingly upbeat attitude and good disposition throughout what has been a tumultuous time for him as International captain. He was the obvious choice to replace Ernie Els after the team nearly pulled off an upset in Australia in 2019 and did all he could to continue the momentum through the pandemic into this year.
Obviously, getting hit with the loss of several prominent players due to LIV Golf–notably Cam Smith, Joaquin Niemann, Abraham Ancer and Louis Oosthuizen was a huge blow. We don't know what might have happened with those players.
It took until Sunday night for Immelman to push back against the narrative that his team had no chance.
"When you consider that we were 8-2 down on Friday evening, this team is no joke, and I'm sick and tired of being spoken of as a joke," he said. "We love this event, and we love our team, and we cannot wait to run this back and have another shot."
The International team made a nice push back on Saturday and for a time had the Americans nervous on Sunday.
And it was further proof that this event has come a long way since its inception in 1994. It faced tremendous skepticism back then. There was a lot of speculation that not all players would buy in. Lanny Wadkins, the 1995 U.S. Ryder Cup captain, once quipped that the competition would be PGA Tour players competing against a "bunch of guys from Orlando."
The competition has been lopsided, but many times it has been quite entertaining. The fear of not buying in was largely misplaced. To see how significant it is, take a look at Max Homa's and Tom Kim's reactions.
While the U.S. has a decision to make about its next Presidents Cup captain, the likely pick for the International team would be Mike Weir. He was an assistant to Immelman in this year's tournament at Royal Montreal in Canada, where he defeated Tiger Woods singles.
Adam Scott would seem a likely choice for when the Presidents Cup goes back to Australia in 2028.
Fore! Things
1. Despite a tough singles loss to Si Woo Kim, Justin Thomas has emerged as the U.S.'s go-to player in Cup competition. He was 4-1 and teamed up with Jordan Spieth to finish 4-0. And he's now 16-5-3 across five Cup competitions that started at the 2017 Presidents Cup.
2. Spieth admitted there was a "monkey" on his back concerning singles play. He had never won in seven of his previous combined appearances. He tied Tommy Fleetwood last year at the Ryder Cup. His singles record is now 1-6-1.
3. It was a difficult week for the Canadians. Taylor Pendrith and Corey Conners each went 0-4, the only players on either side who failed to earn any points. The 2024 Presidents Cup heads to Canada and Royal Montreal.
4. Sebastian Munoz was probably the most underrated International player, going 2-0-1. It is not surprising that he missed two sessions.
The Reed Adventures
After missing the cut at the French Open, Patrick Reed was scheduled to play in this week's Dunhill Links Championship in Scotland, the DP World Tour's pro-am event that includes the Old Course at St. Andrews, Carnoustie and Kingsbarns.
But his name came off the entry list on Monday, meaning this will not be the fifth of seven straight weeks for Reed, who set himself up for some criticism when he said at his first LIV Golf Invitational Series event in Portland that one of his reasons for jumping to the new circuit was the ability to play less.
Reed's odyssey began at the LIV Golf Boston event. Then he traveled to London to compete in the DP World Tour's BMW PGA Championship. He finished fifth. Then it was on to the LIV Golf Chicago event. The French Open was next in line. This week was supposed be in Scotland. Next, we will travel to Bangkok and Jeddah to participate in the LIV Golf events. It's six weeks out of seven.
It's a lot of travel for a player who said in Portland that one of his reasons for joining LIV Golf was "being the guy whose played 35 events my entire career and basically living through Facetime watching my kids grow up. I wanted to spend more quality time with my kids. I wanted to be a dad."
A handful of players used this talking point, and it has proven to be a poor one as they sought to play in tournaments outside of LIV Golf. It was easy to dismiss LIV players who wanted to play more on PGA Tour. This was done by filing a lawsuit and obtaining a stay from a U.K. court to allow them to compete in DP World Tour events.
In Reed's defense, he will play less. Last year he played 29 times and missed three tournaments with pneumonia. With the LIV schedule, he won't get to 30 this year. In 2019, he played 32. It will be more evident next year. With 14 LIV events, four majors, four DP World Tour events (if eligible) and the likelihood of playing the Saudi International and twice on the International Series (as a likely part of his LIV commitment), that's 25. He will play less.
Others might as well, but if they play a similar schedule to Reed, they are not much off from where they were prior. Big deal? It's not. They were open to criticism, based on what a few of them had said.
This week, there are 10 players competing who have competed in LIV events, including Talor Gooch, Louis Oosthuizen, Shaun Norris, Jediah Morgan, Richard Bland, Laurie Canter and Branden Grace.
The Masters Countdown
The first round of the Masters is in 192 days, with numerous opportunities to earn an invitation through the end of this year. This week's Sanderson Farms Championship will be the second of nine PGA Tour events that offer invitations with a win for those who are not yet qualified.
The final Official World Golf Ranking top 50 at the end of 2022 will also receive invites if not already qualified to play the first major championship of 2023.
There are currently 59 players qualified for the 2023 Masters. They include past Masters champions, past PGA Championships winners, U.S. Opens finalists. Opens and British Opens are the finalists for U.S. Amateur, the winner in the British Amateur, U.S. Mid Amateur those finished among the top 12 and ties at the 2002 Masters, the top four finishers at the PGA, U.S. Open and British Open, nine PGA Tour winners since the Masters and seven who qualified by making it to the Tour Championship.
Still to be determined are the winners of the Asia Pacific Amateur and the Latin America Amateur along with the final-year top 50 in the world, PGA Tour winners and those who qualify via the top 50 two weeks prior to the Masters.
Social Matters
> The winners at Quail Hollow
> The captain of the party.
> Scottie Scheffler had a great moment Saturday, a shank.
> Many members of the International Team deserve credit for being great sportsmen.
Next Up
The second event of the 2022-23 season takes place in Mississippi at the Sanderson Farms Championship, where Sam Burns is the defending champion. The tournament starts Thursday at the Country Club of Jackson.
It has been part of the PGA Tour schedule since 1968 when it was known as the Magnolia Classic. Until 1994, it was played opposite the Masters and was often referred to as the "Mississippi Masters." It has been a fall event in various forms since 2007.
The author of 5 books, 3 of which are New York Times bestsellers. I've been published in more than 100 newspapers and magazines and am a frequent commentator on NPR.