A red-hot job market awaits US teens while employers sweat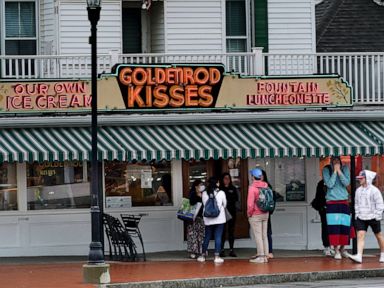 WASHINGTON Mary Jane Riva, CEO at the Pizza Factory, has a warning message for her customers this summer. Be prepared to wait longer for your Hawaiian pie, or calzone.
The Pizza Factory's 100 West Coast locations are desperately short of workers. With about 12 employees per store, they're barely half-staffed — just when many more Americans are venturing out to restaurant chains like hers.
"The days of 15-minute orders," Riva said, "may not be happening anymore."
Talk to other employers in America's vast hospitality sector — hotels, restaurants, public pools, ice cream parlors, pick-your-own strawberry farms — and you'll hear a similar lament. Many of their summer jobs are not filled because there are too many open positions.
Some help is coming: Schools are closing for the summer, affecting millions of students in high school and college for the next three-months. Riva, for example, hopes to receive more applications from students looking for summertime spending money.
Teens have an unusually high level of employment, at least for those who are looking for a job. Researchers at Drexel University's Center for Labor Markets and Policy predicted in a report last month that an average of 33% of youths ages 16 to 19 will be employed each month from June through August this year, the highest such rate since 34% in the summer of 2007.
Among them is Samuel Castillo, a 19-year-old four-year veteran of Miami's Summer Jobs Connect program who's already built an impressive resume. He previously worked in a legislative office registering constituent complaints. He saved $900 his first summer to purchase parts to build his computer.
Now, he's studying computer engineering technology in college and working in the Jobs Connect program again this summer, earning $15 an hour teaching other students how to manage money.
"My goal in life is to pay my bills. "School costs money. Books cost money."
This year, for the first time in a couple of years, employers might get more help from overseas. After restricting immigration as a COVID-19 precaution, the government is beginning to loosen up: The U.S. Citizenship and Immigration Services has raised the limit on H-2B temporary work permits — used for seasonal work — by 35,000 visas.
Cape Resorts is a chain of boutique hotels, cottages, and restaurants located in Cape May, New Jersey, and other parts of New York. This summer, 120 international student will be working on J-1 visas. These work permits also serve as a type cultural exchange program. The company employs approximately 950 employees.
" Finding hospitality staff is still a challenge," Cindy D'Aoust, an executive at the company, said. "But it is great to see the return of our international students as well as returning college students for the summer season."
Still, today's level of teen employment isn't close to what it used to be. In August 1978, 50% of America's teenagers were working. Around 2000, teenage employment went into a decade-long slide. In June 2010, during the agonizingly slow recovery from the 2007-2009 Great Recession, teenage employment bottomed at 25% before slowly rising again as the economy recovered. It was not just economic woes that kept teens from working. Changes in personal and longer-term economic factors also contributed. The U.S. has fewer entry-level, low-skill jobs than the 1970s or 1980s. These jobs are more likely to be filled by older workers, many of whom are immigrants.
Many teens from wealthy families are looking to get into top universities and have decided to give up summer jobs to go to volunteer work or summer school. Others spend their summers doing sports.
But the COVID and its economic destruction changed everything. The economy crashed as businesses closed down and consumers stayed at home. The unexpectedly rapid recovery was triggered by massive federal aid and extremely low interest rates. Businesses had to quickly recall workers they had fired and find new employees to meet the demands of resurgent orders. The U.S. unemployment rate is now 3.6%, which is just below the half-century mark. This week, the government reported that employers posted 11.4 job openings in April, down from a record 11.9 million in March but still extraordinarily high. There are currently approximately two jobs for every American who is unemployed.
Suddenly, teenagers are in greater demand. And the pay available to them — $15 or $16 an hour for entry-level work — is drawing some back into the job market. Even though the overall job market has not improved, teen employment has already surpassed pre-pandemic levels.
With desperate employers raising hourly wages, many teens are able to take jobs that pay more than the usual seasonal openings at RV parks, summer camps, and resorts, according to Julia Pollak, an economist at ZipRecruiter.
" We have this huge gap in the market right now," she stated. "There are no job seekers for jobs that are usually given to teens for pocket cash ."
This has become a major headache for Melissa Mroczek who owns Nomad Wax Co. which makes soy candles in Omaha, Nebraska. Mroczek has been trying to fill a job for a paid marketing intern. A few people expressed interest. Two candidates made it to the hiring stage, but then vanished. Mroczek offers above-minimum wage pay, school credits, and a flexible work schedule.
Never in her four years of running Nomad Candle, and 15 years before that as a hiring manager for a national financial services firm, has Mroczek had so much difficulty hiring.
" We haven't filled the position, and we may not be in a position to do so," she stated. "So we might look to find a high-school student or move it to the fall semester and work directly with a professor in order to offer course credit. "
Economists and other analysts are happy for teens who want to work and can choose from a variety of jobs. The Drexel researchers state that summer jobs give young people the opportunity to gain experience and make it more likely that they will work later in their lives. This is good news for a U.S. workforce that is losing its vast baby boom generation to retirement. Teens can also learn how to manage money and meet people from different economic and cultural backgrounds through entry-level jobs.
Lauren Gonzalez is looking for a barista and bartender to join her sister, Lolo Pass hostel in Portland, Oregon. She recently increased the pay for housekeepers/receptionists, a job she previously had no trouble filling.
"I definitely throw my hands in the air sometimes and say: 'Where is everyone?' "
——–
Anderson reported from New York. This report was contributed by Christopher Rugaber, AP Economics Writer in Washington, and Patrick Whittle, AP Writer in Portland, Maine.
I have been writing professionally for over 20 years and have a deep understanding of the psychological and emotional elements that affect people. I'm an experienced ghostwriter and editor, as well as an award-winning author of five novels.